Hi guys, I'm so excited to be part of Maggie Ann Martin's Book Madness 2017! For those of you who don't know, Book Madness is like March Madness – but with our favorite book characters instead of, you know, sports. Here's how Maggie describes it:
Book Madness 2017 is a chance for participating bloggers to gush about their favorite characters. Every few days there will be a new round of votes throughout the month of March to narrow all 64 of those characters down to one ultimate champion. Just like last year there will be prizes for viewers/voters and the bloggers participating! They will range from bookish trinkets, swag from 2017 debut authors (and possibly some ARCs!), Book Depository books for our international friends, and an Amazon card for our winning blogger!
Here's how it works:
Check out my post. Enjoy. Savour.
At the bottom my post, there will be a link to vote. Go ahead and click it if you want.
But if you want to get really good stuff, check out my Rafflecopter for a special prize related to my post. If you vote through there, you'll be entered to win!
Oh yeah, Maggie also has a giveaway on her blog, so…*throws confetti* BOOKS FOR ALL!
Today, I'll be defending one of my most beloved young adult characters of all time. 
She's fierce, she's feisty, she's red-headed…and she's 109 this year.
Yes, that's right. I'm talking about the one and only Anne of Green Gables, aka Anne "with an E" Shirley.
It's actually been a shock to me to be at local YA events and hear from teens who haven't read L.M. Montgomery's classic coming of age books. I know the covers look old and all, but I promise you that Anne will delight you with her imagination, antics, and swoony hate-to-love romance. She is the OG smart, sassy, successful, girl power character that you love in all of your modern YA.
Here's the lowdown on Anne Shirley and Anne of Green Gables if you've never read it or heard about it.
Anne of Green Gables (Anne of Green Gables, #1)
Goodreads
Author: L.M. Montgomery
Series: Anne of Green Gables #1
Publication date: January 1st 1970 (originally 1908)
My rating:

"She'll have to go back." Matthew and Marilla Cuthbert had decided to adopt an orphan. They wanted a nice sturdy boy to help Matthew with the farm chores. The orphanage sent a girl instead - a mischievous, talkative redhead who the Cuthberts thought would be no use at all. But as soon as Anne arrived at the snug, white farmhouse called Green Gables, she knew she wanted to stay forever. And the longer Anne stayed, the harder it was for anyone to imagine Green Gables without her
Five Reasons Why Anne of Green Gables Is My Favourite YA Character:
1. She's unique – and she changes her people's lives with her uniqueness.
Guys, it's been 109 years, and people are still talking about and loving Anne Shirley. There have been so many adaptations: the amazing 1985 mini-series, movies, webseries, and even musicals based on this story (there are actually TWO Anne TV series right now – one that airs on YTV with Martin Sheen, and one coming up on CBC/Netflix). There must be a reason why no one else can touch her, right?
I think the reason is that she's a person who doesn't just accept the world the way it is – she tries to better it through beauty, optimism, and her own brand of magic. And that starts in her mind, from renaming places to more "imaginative" names, to talking to her reflection and calling her Katie because that's the only friend she has, to wishing and wanting so hard for a real home besides the orphanages that she grew up in.
I'd like to add some beauty to life," said Anne dreamily. "I don't exactly want to make people KNOW more… though I know that IS the noblest ambition… but I'd love to make them have a pleasanter time because of me… to have some little joy or happy thought that would never have existed if I hadn't been born.
The thing is, Anne is not a woe-is-me character. Her circumstances sucked at the beginning, but she always, always tried to make them better. Sometimes that gets her into trouble. But sometimes that's also what makes life bearable. And Anne applies that philosophy to everyone and everything she meets – often changing people's lives for the better (see, esp: Davy and Dora, Elizabeth from Windy Poplars, Leslie from House of Dreams).
2. She's a pioneer…and she does the work.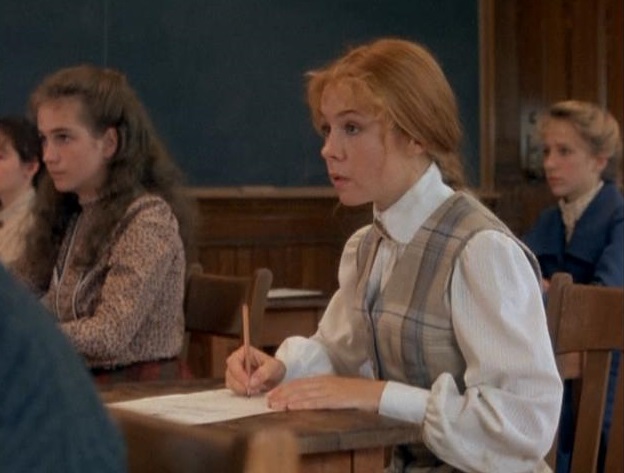 In a world where a lot of girls are expected to just find husbands and settle down, Anne didn't. She strove to be the best in school, she wasn't afraid of being smarter than the boys (she has moments where she laments that being smart isn't as good as being pretty – but I think she ultimately realizes what matters), and she is the first Avonlea girl to ever get a university education.
She's also a girl who isn't afraid to do the work to reach her dreams. And she does it. There are a lot of times when she'd rather be doing something fun instead of studying her brains off, but Anne does it because she recognizes that with the work comes the rewards. Role model? Heck yeah.
3. She's all about the girl friendships. And found families.
Within the first couple of chapters of Anne of Green Gables, you realize how lonely Anne was before she got to Avonlea, and how much she wishes for friends of any kind. Luckily, she's staying with Marilla and Matthew Cuthbert, who are kind of curmudgeonly at the start of the book, but very quickly become her allies. The found family here is just…so great, you guys. You will LOVE how much warmth and light Anne brings to this sister and brother – and how much she learns from them.
And the girl friendships! Can we say #friendshipgoals? Diana Barry lives just around the corner from Anne, and in her, Anne finds a "kindred spirit" – a soul sister who will go along with her adventures, but also support and carry her when she's beaten down. And Diana isn't just a sidekick – she's a great friend, but she also has her own journey in these books.
Through Diana and school, Anne builds incredible girl friendships with others – my favorite being the incorrigible Phillippa Gordon – and they're all unique, different personalities who are all trying to figure out life in their own ways. I loved how well-rounded all the characters were – and how much Anne enjoys and learns and is sometimes annoyed by them.
Anyone who has read and loved Anne will know – these books are about finding people you can be yourself around.
4. She has the ultimate hate-to-love romance and Swoony Book Boyfriend
You guys, I know I said Anne of Green Gables is not about the romance, but you can't talk about Anne Shirley without talking about Gilbert Blythe. So when I first read Anne of Green Gables as a pre-teen, I TOTALLY did not see this romance happening. HOWEVER. If you're slightly older than I was (not 10, but maybe 12 or 13), you will totally see and ship this couple HARD. Reasons? Gilbert Blythe is one of the only characters who can match Anne in smarts and schooling. He's funny, charming, and handsome. And you get these amazing glimpses at just how interesting and idealistic he is – and how much he and Anne would complement each other in their discussions.
I feel like I'm not doing them justice. This is SUCH an awesome slow-burn romance, guys. Just read the damn book and tell me you're not in love with the loyal, smart, self-sacrificing Gilbert Blythe. And if you REALLY want to see their romance heat up…read books 2 and 3. OMG I'M SWOONING ALREADY.
5. She's real. And funny.
Bear with me for a second, spec fic readers. This is where my contemporary love comes in. Anne may be the smartest, sassiest, most creative mind in Avonlea, the little village where she ends up growing up, but she's also a teenage girl. And with that comes vulnerabilities, jealousy, and silly mistakes.
The whole of the first book deals with some of those mistakes in mostly hilarious, but occasionally cringe-y moments where you're like, "OMG, that was me." L.M. Montgomery brilliantly balances her dreamer ways with the reality of living in a tiny farming community in Canada at the turn of the century. It's a contrast that lends itself to comedy, but also humility at she learns and betters herself, and becomes one of the awesomest character in literature.
Have I convinced you yet? If I have, please vote for Anne Shirley in the Book Madness poll!
UPDATE: Anne has made it to round 2 of Book Madness! PLEASE VOTE HERE to keep her in the competition, and en
So, my dear friend and L.M. Montgomery scholar Melanie Fishbane has written a book about the Anne author in her teen years. MAUD is coming out in April from Penguin Random House, and I am CRAZY excited for it.
Maud
Goodreads
Author: Melanie Fishbane
Find the author: Website, Blog, Twitter, Facebook, Goodreads, Amazon, Instagram
Publisher: Razorbill Canada
Publication date: April 25th 2017

For the first time ever, a young adult novel about the teen years of L.M. Montgomery, the author who brought us ANNE OF GREEN GABLES.
Fourteen-year-old Lucy Maud Montgomery -- Maud to her friends -- has a dream: to go to college and become a writer, just like her idol, Louisa May Alcott. But living with her grandparents on Prince Edward Island, she worries that this dream will never come true. Her grandfather has strong opinions about a woman's place in the world, and they do not include spending good money on college. Luckily, she has a teacher to believe in her, and good friends to support her, including Nate, the Baptist minister's stepson and the smartest boy in the class. If only he weren't a Baptist; her Presbyterian grandparents would never approve. Then again, Maud isn't sure she wants to settle down with a boy -- her dreams of being a writer are much more important. But life changes for Maud when she goes out West to live with her father and his new wife and daughter. Her new home offers her another chance at love, as well as attending school, but tensions increase as Maud discovers her stepmother's plans for her, which threaten Maud's future -- and her happiness forever."
So here's the giveaway: if you vote for Anne and sign up below, you have a chance to win a signed, personalized hardcover of the book as soon as it comes out!
Sign up below!